Viewing Tips
One of the main objective of this website (ref. Misidentifications Tab) is to assist the general public when having observed an unusual aerial event to confirm or eliminate a known object or phenomena as the potential source of the event witnessed, and therefore to isolate the interesting UAP from the IFO (Identified Flying Objects). However, this might prove to be a very difficult exercise when some important observation details are missing.
It is therefore also necessary to provide advice to the general public, before any UAP sighting, on the best way to handle any unusual aerial perception. This is how the witness can help the investigation. Indeed, it is of utmost importance that people learn to vigorously observe, accurately perceive, and precisely relate UAP observations. 
WHAT IS THE BEST WAY TO DOCUMENT A SIGHTING (WHEN OCCURRING)? 
The few important features that you must remember to look for are:

1. Your exact LOCATION.  Nowadays anyone can easily determine its precise longitude and latitude using Google Earth or a website (e.g. http://www.satsig.net/maps/lat-long-finder.htm)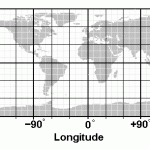 2. Approximation of the TIME (and relevant time zone).
A cell phone can be used for an accurate data.
3. Apparent size of the phenomena, also called ANGULAR SIZE.
It refers to the amount of area that a given object seems to occupy in the sky, based on its size and distance from the witness. One of the most common ways of determining angular size is to hold a common object at arm's length for comparison. A more easy way (proposed by A. Hendry in "The UFO Handbook", p19) is to use four types of apparent sizes: 1= a star, 2= a distant plane, 3= the moon, 4= several moons put together.

4. DISTANCE
Difficult to estimate, unless the phenomena passes in front of an object for which the distance is known.
5. AZIMUT
An azimuth is an angular measurement in a spherical coordinate system. This is used to define positions of the event of the event, in relation to where the phenomena has been observed  the first time, the last time, and if possible during these moments. Azimut is usually measured in degrees,  and is represented by a 360° circle that starts and ends at due North. This one being at  0°, East at 90°, South at 180 °, West at 270 °.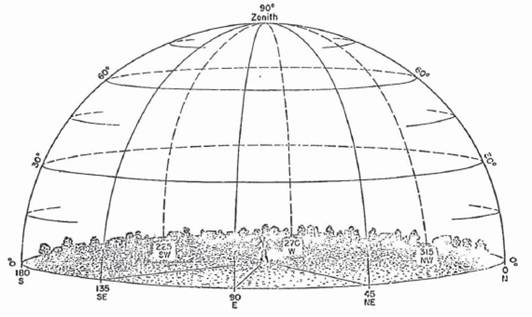 Where possible the direction of the observed phenomena can be indicated by arrow, as well as the duration of the sighting. The times at the various intermediate positions occupied by the phenomenon shoule also be shown (especially, at the position it might have changed shape, color, speed, direction, altitude…). If a light phenomenon became brighter, and then gradually faded, it can be represented by a line becoming increasingly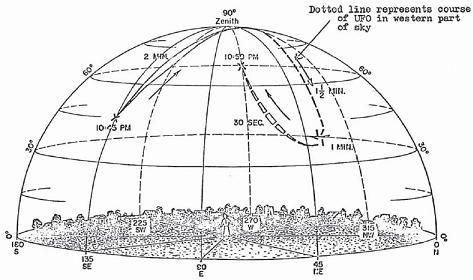 thicker and then gradually thinning out to nothing. Further details could also be added. Also, if any prominent landmarks such as mountains, buildings, or specific installations, trees, etc…are part of the sighting area, they could also be included in the drawing. An example of such plot is as follows (Source: APRO 1972, recommended procedures for field investigators)
6. ELEVATION ANGLE (above the horizon)
A phenomenon sighted on the horizon is at an elevation angle of 0°, at zenith (directly overhead) at 90°, and halfway at 45°.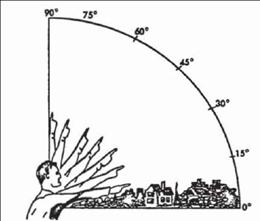 (Illustration source: APRO 1972, recommended procedures for field investigators)
7. OTHERS
Finally, the last important things to remember to do while the sighting is in progress are:
– Get additional witnesses, if possible,
– Take pictures or use a camcorder to record the event,
– Rapidly write down your description of your observation,
– Contact the locals news media and immediately file a report to  a UFO research organization (…including this website, with the related sighting forms under the "Reporting tab") for investigation.