Meteors
These are a highly important phenomenon to understand, as they give rise to many UAP reports. They basically consist of pieces of rock or dust that enter the earth's atmosphere from space. Mostly they are no more than minute particles, which flare up briefly as they rub against the gases of the outer atmosphere and are heated to incandescence by the friction. They incinerate in a second, or perhaps two, and sometimes produce a spectacular streak of light in the sky, which can be seen if you happen to be looking at the right place at the right moment. At the time of a major shower – where the particles congregate in swarms and the earth moves through this – many meteors can be seen over the course of an hour. Since these swarms remain in the same place and the earth's orbit is regular we can accurately predict periods of meteor showers. However, occasional meteors can be seen on any night.
Colours can vary, but they are usually white. An exceptionally bright meteor might leave a trail of luminous gas in its wake, and this will glow (faintly) for several seconds or even minutes after the meteor has vanished. Larger chunks of rock do sometimes enter the atmosphere – although fortunately those of the size depicted in the disaster film Meteor are exceedingly rare. These larger meteors provide most distinctive sights known as fireballs or bolides. Because of their size these take many seconds (up to about ten) to burn out as they pass across the sky, seemingly very slowly and in a horizontal mode. They look like a ball with a fiery tail and are usually orange or blue/green in colour.
Their brightness is exceptional and they can even be seen in broad daylight, when smoke trails are often witnessed. A rumbling or whooshing sound has sometimes been noted, and an explosion seen or heard on termination of the bolide. Naturally, truly brilliant bolides are rare, but every so often they are reported. Usually they are so spectacular that most people regard them as UAPs, and reports will flood into normal sources. Very rarely indeed is the meteor so large that even the intense frictional heat is not enough to disintegrate it. Bolides sometimes do break up into smaller pieces and the odd one or two may hit the earth. Such bodies that strike the earth, and leave an impact crater as testimony of their presence, are called meteorites.
A nice poster about Meteor Terminology: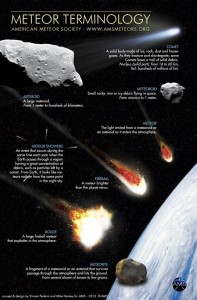 Telltale signs: Very short duration (absolute maximum twenty seconds but usually around several seconds), appearance and colouration as described (usually very consistent) and, almost exclusively, a large number of witnesses over a wide area (up to several hundred square miles/kilometres). You should immediately suspect any phenomenon witnessed by dozens of people over a wide area – or even most of the country – as either a fireball meteor or a satellite re-entry (see later).
Resources: General information on meteors, fireballs and bolides is available on the internet, as well as yearly calendars for meteor showers and different meteor observation techniques.
International Meteor Organization: http://www.imo.net/calendar/2009
Meteor Physics, The University of Western Ontario: http://aquarid.physics.uwo.ca/research/index.html
Variety of meteor and fireball videos from around the world:  http://www.meteorites.com.au/films/