Rocket Launches
Rockets are sometimes launched to conduct experiments instead of balloons. They can go kilometres into the atmosphere and so be seen from a very wide area. Experiments in the upper atmosphere often involve the release of a cloud of vapour which can be luminous. This glowing mass has, on occasion, been widely reported as a UAP.
In September 2009, NASA launched a rocket (Black Brant XI) in Virginia to gather data on the formation and properties of noctilucent clouds, which occur at high altitudes. About the time of the launch, dozens of people in the Northeast started calling local television stations to report seeing strange lights. The calls came from as far away as Boston, which is about 380 miles northeast of the launch site.  On board the rocket, the Charged Aerosol Release Experiment (CARE, conducted by the Naval Research Laboratory and the Department of Defense Space Test Program) created an artificial noctilucent cloud using the exhaust particles of the rocket's fourth stage at about 173 miles altitude. It created a bright object with a fan-shaped tail, prompting calls to the local television stations.
Telltale signs: Slow drifting motion, possible long duration of observation, multiple witnesses (over a wide area).
Resources:
Optical phenomena associated with the launch of a ballistic missile BULAVA" December 9, 2009.
http://pgia.ru:81/seminar/archive/2010/6_atmosphere/06-07_Platov.pdf
Optical Phenomena due to Rocket Exhaust Products in the Atmosphere.
http://helion-ltd.ru/opti-phenomena-rocket-exh/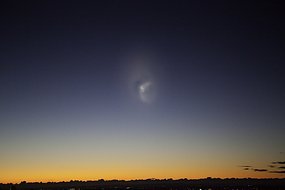 Case 5 June 2010: US rocket launch sparks Australia UFO frenzy
(AFP): A bright spiralling light, believed by astronomers to be a rocket launched from Cape Canaveral, was spotted in skies across Australia's east coast just before dawn Saturday, sparking a UFO frenzy….Described by some witnesses as a "lollipop-type swirl", the cloud of light was seen over the country's three easternmost provinces — New South Wales, Queensland and the Australian Capital Territory — shortly before sunrise."It had a distinct bright centre, much like a bright star … (with) trails spiralling and fattening out from it," Canberra resident James Butcher told broadcaster ABC of the spectacle, which he said lasted two or three minutes.Other witnesses likened the spectacular phenomenon, footage of which was quick to hit the Internet, to a "huge revolving moon" with a swirl in the middle, or an illuminated cloud moving high and fast above the horizon. "It certainly had that lollipop-type swirl … but it was travelling low and fairly fast, and as it went past me and I looked up, it looked like a row of lights, maybe four lights," one Brisbane resident said. Astronomer Andrew Jacob, acting curator of the Sydney Observatory, said it was most likely SpaceX's Falcon 9 rocket, launched Friday from Cape Canaveral shortly before dawn broke over Australia. "It fits best, a rocket travelling overhead with something venting out of it, fuel venting out of the motor," Jacob told AFP. "The rocket's probably tumbling or spinning a little which creates a spiral effect, a little like water coming out of a hose when you spin it. That's the best explanation I have so far, probably the most likely one." …
Story at : http://www.physorg.com/news194966038.html and video at: