Clouds
These are of course very common things, however, there are two types that need to be considered since they are fairly unusual. Lenticular clouds are formed of domed layers and can look very much like the classical "domed disc" shape reported for supposedly metallic UAPs. This effect is enhanced because they are often lead grey in colour. They can occur singly or in groups (giving the appearance of a formation of discs). Naturally it ought to be a simple matter for most people to recognize them for what they are, but the interplay of perception and psychology can alter that. Noctilucent clouds are even stranger. They are visible at night and consist of ice and debris forming at a height of around 80 km. They often manifest as a "knotty" eerie white or pearly blue luminescent cloudy mass possibly covering a substantial expanse of the lower horizon.
Telltale signs: Motion drifting with the wind (although for noctilucent clouds especially wind speed and direction at great height may not be the same as on the ground), cloud-like ability to alter shape, long duration of observation, no break in direction or speed of motion (except under unusual circumstances).
Resources:
National Meteorological Library and Archive, Fact sheet 1 Clouds:
http://www.metoffice.gov.uk/corporate/library/factsheets/factsheet01.pdf
The clouds appreciation society: http://cloudappreciationsociety.org/
UFO ? No, a  cloud with a golden lining:  A couple had a cloud encounter of an unusual kind when they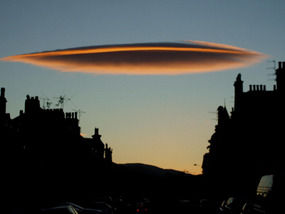 spotted what looked like a large flying saucer hovering over Britain…(Source: Express.co.uk, 23 June 2010): Brian Wilton and his wife Isobel snapped the moment as the setting sun threw an eerie light into the massive cloud. The "spaceship" appeared above Crieff in Perthshire at the weekend. Mr Wilton did some research and believes it to be altocumulus lenticularis. These are one or more individual almond-shaped or lens-shaped masses of cloud that appear  dense, with pronounced shading. Mr Wilton said: "The formations are usually on the sheltered lee side of mountains. We couldn't believe it. It was like the scene in the film Close Encounters of the Third Kind when the big spaceship comes down."
Whilst on this topic one might note that reflection of ground lights from clouds is also possible. At night the cloud might not be visible and a moving searchlight beam could give the appearance of a white oval object moving across the sky. Under some circumstances it is also known that moving car headlights can reflect from cloud surfaces (if the car is climbing a hill for example) and peculiar moving lights may be seen, usually as a group over a period of time rather than an isolated instance. Reference to a map, and the weather details (e.g. cloud heights) should serve to identify any possible sightings of such things. Unusually clear air will also be necessary.
January 2012:
Regular observations around the world of giant halos in the sky surface in the medias and are spectacular enough to ignite UFO rumors. Today this was the turn of CNN  to speculate over the weird formation of a "hole-punch cloud" over Taiwan. (Article: http://ireport.cnn.com/docs/DOC-729071). This type of cloud occurs in cirrus or cirrostratus clouds (I recommend you to visit the"cloud appreciation society", http://cloudappreciationsociety.org for information and pictures), which are often composed of ice crystals and super-cooled water droplets (water that is below freezing temperature, but still in liquid form). When disturbed (e.g. by a plane) the droplets can freeze instantly or evaporate, the latter of which will form the hole.
http://www.youtube.com/watch?v=z91AZnGX338