Although not directly related to the project, I have added under the "About us" / Publications a paper that I wrote last January for the European Space Policy Institute. It is called "UFOs and Exogenous Intelligence Encounters".
Readers interested with the "Extraterrestrial hypothesis" (The hypothesis that unidentified flying objects (UFOs) are best explained as being extraterrestrial life or non-human aliens from other planets occupying physical spacecraft visiting Earth…Ref Wikipedia) will find some food for thought.
Any comment is obviously welcome !
Abstract: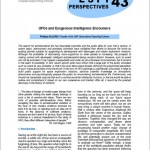 The search for extraterrestrial life has fascinated scientists and the public alike for over half a century. In recent years, astronomers and planetary scientists have multiplied their efforts to discover life forms by probing planets suitable for supporting its development with telescopes and robotic exploration missions. Although the probability of discovering micro-organisms on other planets is increasing, the prospect of making contact with developed, intelligent extraterrestrial beings remains distant. However, such an event can not be excluded; it may happen unexpectedly and under as yet unforeseen circumstances, but it remains in the realm of possibility. In fact, recent opinion polls have shown that a large part of the public considers such an event as very probable, or that it has even taken place already. Although the popularised perception of such "close encounters of the third kind" in the form of UFO sightings is scientifically unfounded, it helps to build public support for space exploration missions, advance scientific knowledge on atmospheric phenomena and psychologically prepare the public for encountering extraterrestrial life. Furthermore, one should not necessarily assume that such a contact would be initiated by humans, or that we would be able to realise and comprehend it based on our own experience and intellect. After all, it would be the greatest discovery in the history of mankind"